Established in 1987, Translux is a privately-owned company, dedicated both to our clients and our relationship with the Film and Television industry
For the past 35 years our primary objective has remained consistent – to provide our clients with the finest quality of facilities trailers and technical trucks along with the highest level of service possible, without compromising on our responsibility to operate with integrity and due care.
Our extensive credit list hopefully demonstrates that we have earned our client's trust and loyalty and we are humbled to be regularly working with the best Production crews and actors in the world.
Global reach
Translux has the most capable and accomplished international experience in the industry and has successfully serviced hundreds of Productions in 25 countries across five continents. We operate the largest and most comprehensively equipped fleet in Europe offering Productions a unique and unrivalled range of facilities trailers and technical trucks.

We are the only company to have established offices and depots throughout Europe with permanent local teams in the UK, Hungary, Germany, Spain and the Canary Islands – each offering our clients genuine 24/7 support.
When shooting in Europe, our strong European subsidiary network offers our clients significant savings on their Production's travel costs, efficient delivery response times and substantial financial benefits from local spend tax incentives and rebates.
Creating the right working lifestyle
We are very aware of the importance of budget when Productions choose a transport supplier, so Translux continues to remain very competitive and affordable with our pricing.
We also recognise that our clients value our ability to provide mobile working space solutions that allow them to achieve an optimal working lifestyle for their crew and cast for the duration of the Production, ensuring they can focus on the onscreen content.
Everyone needs their own space and at Translux our mobile working spaces are more generous than most; we have been committed in our consultation with industry leading crews and actors for many years in order to invest, design and manufacture the very best in practical, comfortable and reliable facilities and transport solutions.
One-Stop-Shop
With the required Operator's licence capacity and strong track record, we are the only Film and Television transport company which offers Productions a comprehensive one-stop-shop for their transport needs, compromising of a full range of luxurious facilities trailers and technical standby trucks through to daily run-around vehicles.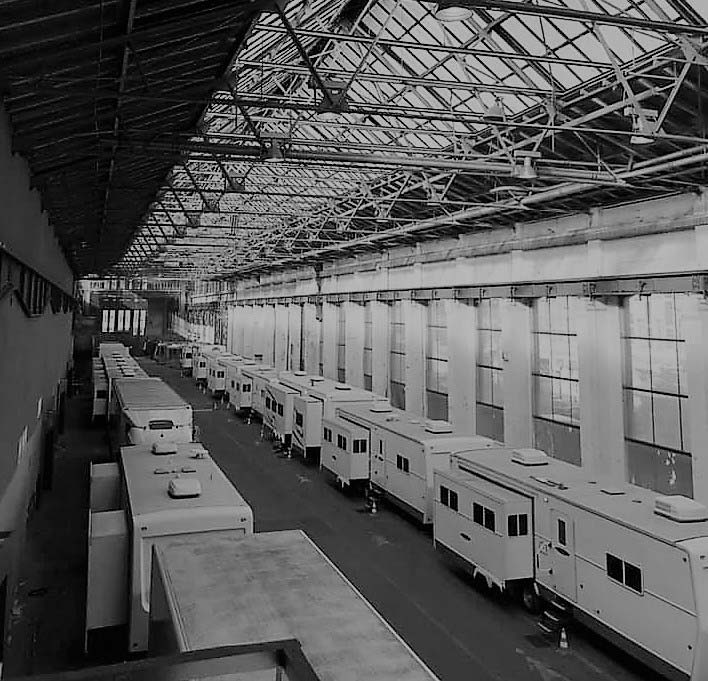 Our people
Our ethos is that our equipment is only as good as the people supporting it. Our professional, experienced, and attentive crews are focused and committed to ensuring each Production receives a personal level of service with the least fuss or compromise. As an equal opportunities' employer, we embrace diversity and are committed to creating an inclusive environment for all employees.
Leading the way in sustainability
As the market leader, we hold ourselves accountable to both minimise our own impact on the environment, as well as assist the industry to be as environmentally sustainable as possible. Our European offices and depots are strategically positioned within very close proximity to all the major film studios allowing us to keep Translux's and our client's carbon footprint and environmental impact to a minimum.
For years we have led the way in designing technical trucks which can tow technical and facilities trailers to completely halve emissions and we continue to innovate with new technologies to constantly improve our environmental standards. Translux runs a clean and efficient fleet of vehicles that meet Euro 6 emission regulations and we are also an Albert approved supplier.
Always striving to improve
Operating in a fast-paced and ever-changing industry, Translux prides itself on our ability to recognise areas for improvement, seeking to evolve based on the experiences we have gained servicing hundreds of projects over the years; never resting on our laurels, instead striving to improve and exceed the expectations of our clients.
"We are truly grateful to all our clients, and as the industry continues to flourish and grow, we look forward to the new challenges and encounters we will face together,"
Simon Johnson, CEO
---
Contact us
Please choose how you would like to get in touch.
You can either email us at sales@translux.com or give us a call on +44 (0)1494 520050
If you're unavailable now, please simply enter your details below and we will contact you.